Telehealth Poised to Revolutionize Healthcare in Thailand
For weeks, Nittaya put off seeking care for persistent back pain, even though she could barely take care of her toddler and do her daily chores. She postponed her visit to the doctor for fear of catching the virus - at the hospital waiting room, in a taxi, or even from the nurses and doctors who attend to patients face to face. Her fear of getting exposed to the virus was greater than her pain, although she suffered with each move.
Senior account executive Philip was in Rayong for a series of client meetings. While in his hotel room one evening, he started feeling dizzy. He could not keep his food down and was feeling weak. The hotel did not have a doctor who spoke English, and a late night visit to the Emergency Room did not sound like a good idea, since Philip didn't know his way around the city, and was not familiar with the hospitals.   
During this unpredictable pandemic, people's concerns about their health have been growing exponentially, and seeking medical attention has become more difficult. Feelings of anxiety come at the thought of leaving a safe place to venture into a hospital – potentially dangerous for catching viruses and infections, not to mention time-consuming.
Routine visits, checkups, screenings and scheduled surgeries for non-life-threatening cases have been postponed, just like countless consultations and treatments. But when a medical emergency strikes, what are the options?
Today, thanks to modern technology, Nittaya and Philip can use their laptop or smartphone to talk to a doctor who can help them with their health problems within minutes. They can have a medical video consultation, in Thai or in English, without leaving home or the hotel, or worrying about advance payment.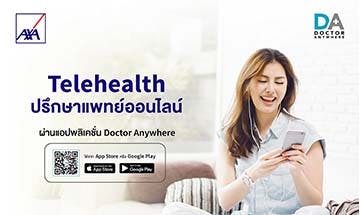 The doctor is now online
People have been talking about the brilliant addition to the country's health service sector offered by AXA Thailand General Insurance. Driven by its desire to ensure that people have uninterrupted access to healthcare especially during the pandemic, the company created its Telehealth Service, the safest and most efficient way to connect patients with qualified doctors who can address common illnesses like fever, cough, cold sore throat, and more.
How does it work? AXA Health customers with Out-Patient Department (OPD) coverage can avail of the Doctor Anywhere app that will connect them to an affiliated doctor. The consultation is always professional, interactive, unhurried and private, just like in a doctor's office. If needed, medication and supplies can be ordered and delivered securely to the patient's home, hotel or office. The app is very simple to download and easy to use - in just a few simple steps, medical care is at your fingertips!
Being able to speak to a doctor safely and securely is a big step in providing peace of mind to people in many parts of Thailand, particularly in light of the pandemic. No more delays and missed care that could impair one's health, compromise or even endanger one's life. Now that technology has opened new options, AXA Thailand General Insurance has found a superb way to provide a healthcare experience that is personal, confidential and stress-free! The company's mission to meet people's needs and to be there when it counts is definitely accomplished by this innovative service.
With the continued surge of COVID-19 infection in different parts of the country, and new variants still being identified, it seems like the pandemic may be far from over. It is wise to avoid the hospital scene for the time being, except for cases where dire medical attention is necessary.  
Last but not least, technology and innovation are doing a favor to the brave doctors, nurses, medical staff and healthcare professionals who are spread too thinly because of the enormous pressure, staff shortage, fear for their own safety and low morale. By consulting online, emergency rooms, waiting lounges and corridors are no longer crowded, and this is best for all concerned. Using this telemedicine tool that connects patients with doctors, is a good way of expressing to COVID-19 front liners the gratitude and respect they deserve for being true heroes during this pandemic in communities worldwide.
Click on this link or   to hear TV personality, tech specialist and columnist Sueching (Jitsupa Chin) explain the easy steps to use AXA's Telehealth service.